Justine Corbi is fairly new to Maine — she emigrated here from France four years ago. Matt and Corrinna Stum are even newer, moving to Portland sight unseen from Indiana last summer.
Corbi, owner of Bravo Maine cooking school, and the Stums, food-service veterans who dreamed of opening a new restaurant in the city, have found a home at 64 Pine St. in Portland, the former Aurora Provisions.
The three, while not longtime natives, are aware of the former cafe and bakery's place in the neighborhood, and they want to honor it by providing space for the very hungry West End community.
"Maine people are very nice, very friendly," Corbi said Monday as she stood in the roomy sun-splashed dining space. "We want to reflect that here."
Corrinna Stum added, "The West End is hungry for something like this."
Corbi leased the 4,269-square-foot one-story building from owner Tom Landry, of Benchmark Real Estate, in February.
The Stums are subleasing during the day for their restaurant, Ruby's West End. The relationship works well — Corbi offers evening classes and day classes when Ruby's isn't open. Ruby's, which held a ribbon-cutting Wednesday, is open from 8 a.m. to 4 p.m., Wednesday through Sunday.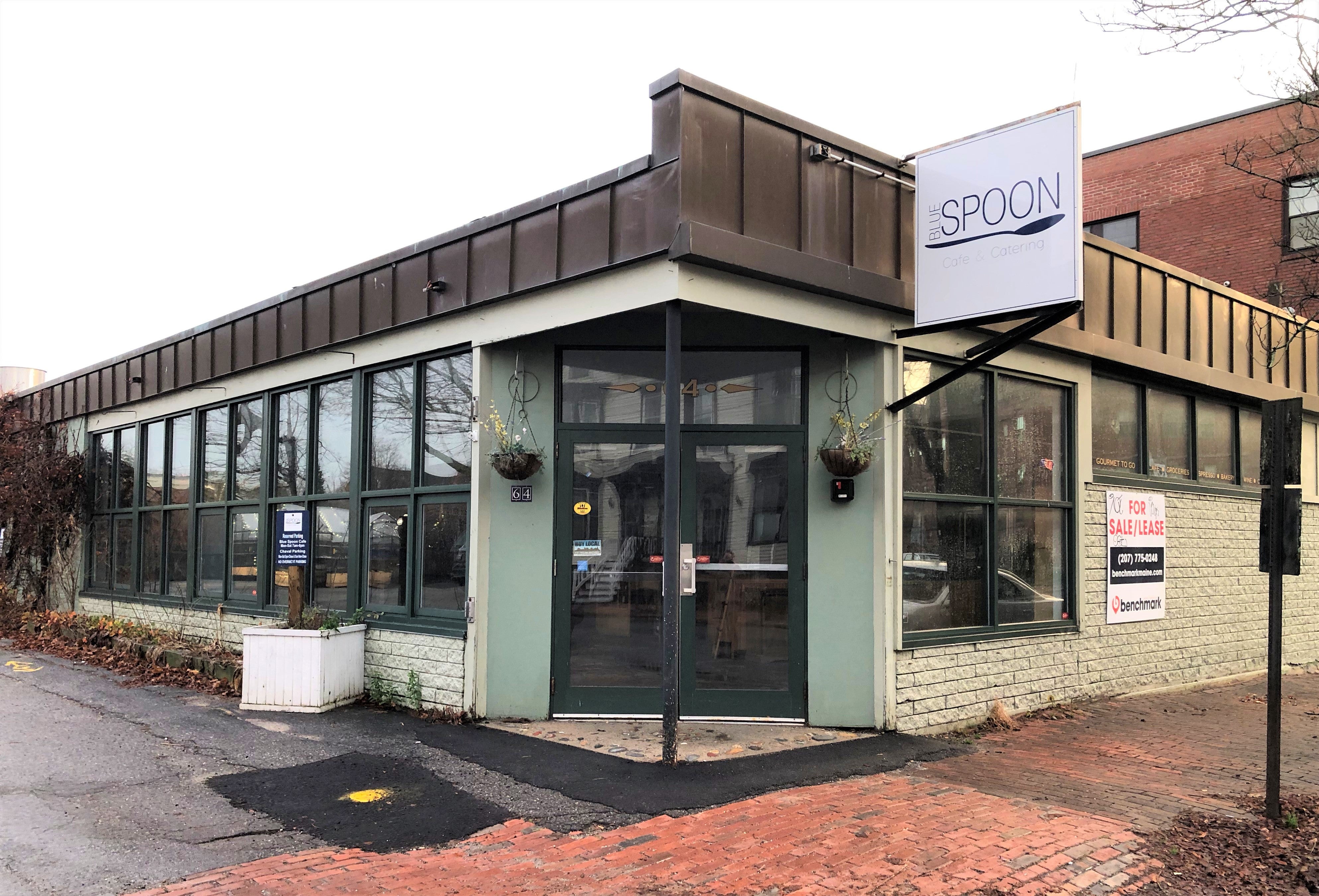 PHOTO / MAUREEN MILLIKEN
Fitting the vision
Landry, who lives in the West End with his wife, Amy, and their kids, bought the building in 2019 and leased it to Liz Koenigsberg and Will Lavey, owners of the Blue Spoon, for a catering business. They closed the West End shop as the pandemic shut down catering.
The building was turnkey, with a commercial kitchen, and came with a lot of equipment. The public space is large and lends itself well to social distancing. After the caterers left, Landry thought the empty building would be great for collaborative food-service uses, a way to help restaurants hurt by the pandemic produce and keep their brands alive.
"There was a lot of interest," he said, but from businesses that weren't food-related. "They didn't fit what I envisioned the space to be."
When Corbi approached him, he saw she had a passion for what she was doing, and that she knew what she wanted. He thought she was the perfect fit.
Corbi had been operating out of Fork Food Lab, a coworking food producer space in West Bayside, but wanted something bigger that she could call her own, particularly as the pandemic continues to rage. She needed space for students to spread out, space for them to dine on the food they cooked, and also to prepare meals for others to dine on once the time was right.
She couldn't find something that really fit until she saw 64 Pine St. The 70-year-old one-story building, constructed as a grocery store, has its own parking, big windows, plenty of space, a large commercial kitchen and even some of the equipment she'd need to acquire.
"I was looking for a place that was more intimate," she says, and although the space is big, it has intimacy in that there's space to connect with students in a way she couldn't at Fork Food.
She also loves the West End location. "It's a beautiful neighborhood," she said, with a lot of energy and people who are interested in what's going on at the former Aurora.
She has four employees, all chefs who teach both adult and kids' cooking classes, one of whom may also start a catering business in the space. Until the pandemic eases, her classes are limited to 10 people, but she plans to expand to 12 to 15 once the pandemic fades away and she feels comfortable doing it.
PHOTO / MAUREEN MILLIKEN
Suddenly they're opening a restaurant
The Stums, who do businesses as Renn Restaurant Group LLC, were living in Indianapolis this time last year, and had never been to Maine.
Matt started his career in that city's kitchens, soon becoming a chef, and has worked at two James Beard nominated restaurants, in Indianapolis and Cincinnati. Corrinna opened 12 restaurants with Boca Restaurant Group in Cincinnati and Cunningham Restaurant Group in Indianapolis, before becoming a consultant.
"We wanted to move in pursuit of our careers," Corrinna said Monday. As industry veterans, they were aware of Portland's growing reputation as a food city, and moved there in August. Matt got a job in the kitchen at Fore Street, and Corrinna as assistant general manager at Central Provisions.
They eventually planned to open their own restaurant. With the emphasis on eventually. "We didn't anticipate doing it our first season here," Corrinna said.
They weren't aware of Aurora's history at first, but as West End residents, they soon heard about it. And then they heard about Brava Maine. They weren't going to let the opportunity pass.
The both say the need for a restaurant and gathering place in the neighborhood is obvious. The community has been "incredibly supportive," and very interested in what the Stums are doing.
Aside from pastries, the restaurant will serve nontraditional brunch food, things like sea trout, cucumbers ceviche and pork belly. They will do both dine-in and takeout, and also have a pay-it-forward program, where people can donate so the restaurant can provide meals to people who are going hungry.
Community space once again
The space has been a community effort from the start. The Stums put out a call on the local neighbors Facebook page for table setups, and now have a collection of embroidered and lace tablecloths, and more.
"Everything was donated by neighbors," Corrinna Stum said, indicating the nicely set tables scattered around the room. "It's bringing new life to the space."
Artwork on the wall is donated as well, including blown glass flowers from an artist friend of the couple. The restaurant is named after Matt's grandmother, and a nook features a photo of her, as well as other members of both sides of the Stums' family.
"Presentation and visuals are important," Corbi said. That not only goes for the furnishings, but the fact that there's life in the building both day and night. "It's good that people can walk by and see there's something here, something going on."
She and the Stums are excited about the collaboration and exploring the possibilities. Both plan to use the outdoor space, where there's room for a patio, once the weather warms up. More immediate plans are to put up a new sign. Until then, the Aurora Provisions sign is back in place.
Landry, who also has a food service background, as director of food service marketing for Barber Foods for 11 years, is thrilled with the outcome.
The building, with its space and large commercial kitchen "is a production kitchen, it's production space," he said. "It's great it's being fully used, and Bravo and Ruby's really fit into the community. The old Aurora was a community meeting place, and that was always the goal."